I hadn't thought much about who or what Père Ubu was. Suffice that they made one of my favourite songs, 20 seconds over Tokyo. That the name was from a play by an french author didn't matter much. Untill I came over the picture below.
Père Ubu is a figure in the play Ubu Roi by Alfred Jarry. He features in several of Henris paintings. For example in the center of his most famous one, The entering of Christ into Liverpool (more on Henri and the painting: Liverpool and the Avant-Garde).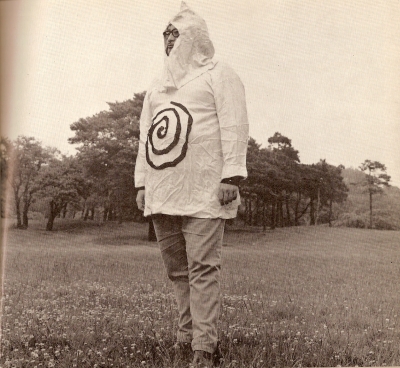 The above, showing Henri as Père Ubu is from The Liverpool Scene, Edward Lucie-Smiths book from 1967 (between pages 64 and 65).
Below is Jarrys woodcut of Père Ubu taken from the Gutenberg projects etext of the play (click on the picture to go the etext).