Culture
Posted on
Tue, February 05, 2008 19:27:12
Mithras is the god of a roman mystery-cult, which flourished from the 1th to 4th century of our era. Their rituals was performed in the mithraeum, either a natural cave or a building imitating one. Apart from representations of Mithras himself, other sculptures has been found. Here is a statue of a lion-headed god or man found in Sidon (Lebanon). The mask has an open mouth and it's been suggested that it spew forth fire. Pretty impressive in a dark cave I would imagine!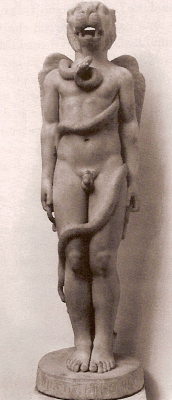 Similar figures has been found elsewhere. Here's a relief from Rome: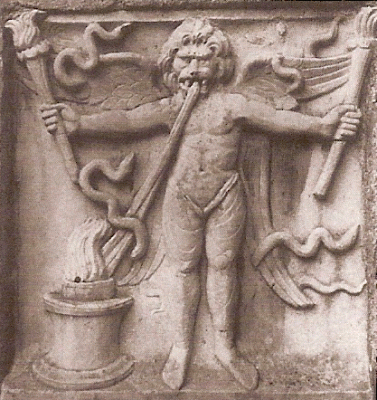 Here he holds two torches and lights a fire with fire from his mouth. The four snakes might be the four seasons. And finally a relief probably also from Rome (but now in Modena):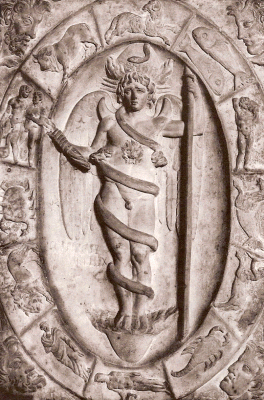 Notice the zodiac and his Pan-like, cloven feet!
These pictures and more can be found in Manfred Clauss The roman cult of Mithras (recommended before starting on John Cowper Powys Porius if you don't know something about Mithraism beforehand). Mithraism is fascinating because most of what is known is physical evidence like statues and the like, what little is written is christian anti-mithraic pholemics. Clauss' book is mostly about iconography btw.