Occasioned by Joshu Sasakis 100th birthday, a book was published: The 100th year of Joshu Sasaki Roshi (2007, 88 p.). (This, and the two titles mentioned below, are published by the Rinzai-ji Zen Center in Los Angeles.)
This is the 3rd commerative book on Roshi. The first was The Zen of Myoshin-ji comes to the west : 25 years of Joshu Roshi in America 1962-1987 (1987, 89 p.). In 1992 a second volume was issued to celebrate his 30 year in America: Zen Master Joshu Sasaki: The Great Celebration. (I don't have a copy, rumour has it that most of the copies of the 1992 book was sent to Japan.)
The
books are all in album-format, contains examples of Roshis teachings,
presentations of the various groups associated with the Rinzai-ji
order, and photographs! The 100-year book have a long and deep-probing
interview with Roshi. This is a man that doesn't go in for small-talk
very much! I must admit that I find his teachings about Tatagatha-zen
difficult and that is as it should be.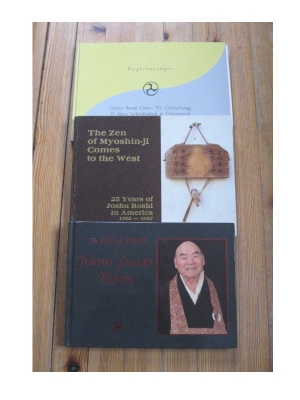 The 3rd book in
the picture btw, is Wegkreuzungen : Genro Seiun Osho, 70. Geburtstag,
15 Jahre Lehrtätigkeit in Österreich (71 p. Bodhidharma Zendo, Wien
1994), an album published to mark Genro Koudela Oshos 70th birthday in
1994.
Genro was the 4th to be ordinated Osho (teacher) by Roshi.
A list of most of them is in the 100-year book. Missing though, is the
first woman to be ordinated, Gisele Gesshin Midwer (1931-1999). In a
article on Roshi (Eminent Masters, in Zen. International Zen Institute
of America 7/87) she mentions that he plans to live to the ripe old age
of 108!
The only other book published with Roshis teachings
is Buddha is the center of gravity : Teisho of Joshu Sasaki Roshi at
the Lama Foundation (San Cristobal 1974). Inserted in the book is a
sheet with the Hearth Sutra in both chinese and latin characters.