About once a year I read a book in german. This years lucky one was Jürgen Teipel's Verschwende Deine Jugend : Ein Doku-Roman über den deutschen Punk und New Wave. Teipel has conducted interviews with several key figures in the arise of punk and new wave in Germany. He's cut and pasted the voices of these figures into a very good book.
It's obviously two different approaches that collides here, the art-scene and the violence-seeking outsiders. To begin with everything was possible. The double-CD with the same title shows this in abundance, with its mix of the playful (Der Plan a.o.), the vaguely political (Mittagspauses masterful "Innenstadtfront"), the a-bit-over-the-top serious (Einstürzende Neubauten) and the boisterous and drunken (Die Toten Hosen). Sadly it's the Toten Hosen of this world that has kept the punk-designation going.
Both the book and CD is highly recommended!
3 other books on/from the same scene: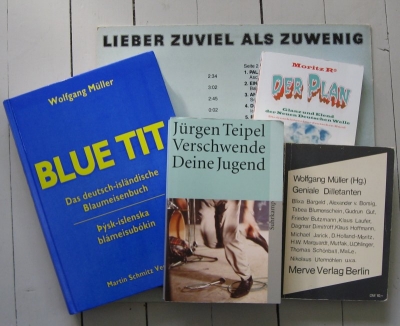 Wolfgang Müller (from the band Die Tödliche Doris) edited an anthology of texts, drawings and photos from a loose grouping called Die Geniale Dilletanten in 1982. Several years later he published the oddity Blue tit : das deutsch-isländische Blaumeisebuch (1997) with parallell german and icelandic text! It's not only about the bird, but features a mix of curious facts and impressions from Iceland.
Moritz R's Der Plan : Glanz und Elend der Neuen Deutchen Welle : Die Geschichte einer deutschen Band (1993), is just what the title says, a story of the band Der Plan from start to finish (1979-1992).