This summer we rented a cottage, the Seahorses, in the small village of Port Isaac for a week. We also spent a few days in London.
Port Isaac as a village seems to have been mostly taken over by people using cottages as holiday homes, and the prices must be very high for locals. There's even a movement, the CNLA, that treatens to burn down houses owned by english. Similar movement have existed in Wales and Sardinia and perhaps other places as well.
We flew from Torp to London Stansted, spent 5 1/2 hours at the airport and flew to Newquay where we picked up our rental-car. I hadn't exactly looked forward to driving on the wrong side of the road, but that was actually quite interesting, as was the narrow roads that the GPS insisted were right for getting to Port Isaac. You get to se some nice views that way, but we found that it was better to use the map if we wanted to get somewhere quick.
A car made it easy to visit the sights. The first day we went to Tintagel, and here are the children on the cliff looking south towards Port Isaac: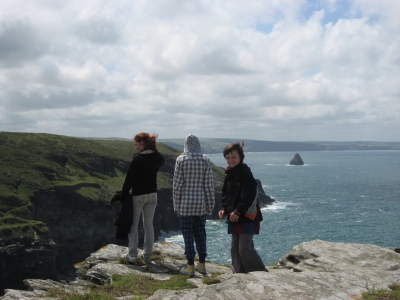 Recommende reading on Tintagel: Hugo Pratts Les Celtiques.
The car was parked in the outskirts of Tintagel-village, and we walked through the village on the way out and went back via the coast-path. The return-trip was maybe the best of the whole thing, with the sun, wind, sea and sky.
The following days we went to the Eden project, The Lost gardens of Heligan, The Museum of Witchcraft in Boscastle, the country house Lanhydrock near Bodmin, and the cities of Newquay and St. Ives.
The weather was seldom right for bathing, we only managed two dips and that was a shame as the beaches especially in the south was marvellous. Here are the beach at Sennen Cove, which also have a more than ordinary good beach restaurant.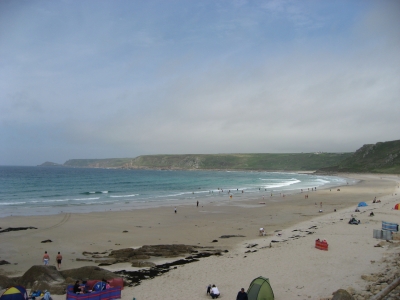 The theme park at Lands End has a Doctor Who exhibition, that we had to see, here are my children again: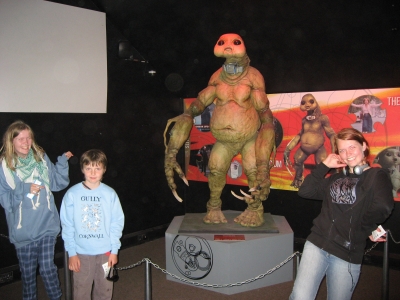 The exhibition consisted of tablaux from the two latest doctors, among them a quite scary dalek, not sure if it was value for the money. The souvenirs and more, could be found cheaper at Forbidden Planet in London we found later.
Here are the two greatest fans outside the building: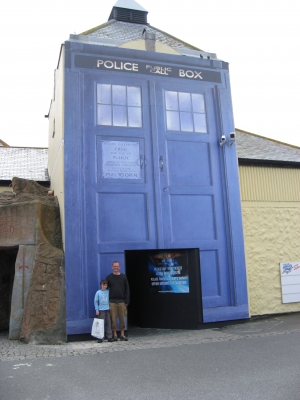 But it wasn't only sightseeing and fun, we also got a flat tire and had to change to the spare in the parking lot at The lost gardens of Heligan (that we otherwise highly recommend). Some might also complain aboute the weather…